Google Ads (previously Google Adwords) can help drive highly targeted customers to your website, grow your online sales, get your phones ringing, and then keep customers coming back for more.
Here's our step by step guide to setting up a new campaign in your Google Ads for your business.

Google Ads Setup
First up we're going to look for the right keywords to target.
Go to Google Ads: https://adwords.google.com
Sign in with your Google Account.
You will find the keyword planner in the main menu under Tools > Keyword Planner.
Select: Find New Keywords and enter words, phrases, or website URL related to your Business.
Click on "Get started".
You will see average monthly searches and relevant keywords. It is best to keep in mind to use keywords that your customers are searching for.
Campaign setup
1.Once you have your keywords and are ready to start, create your ads. Click on the "X" on the top left of the screen (next to the Google Ads logo) and then click on the arrow which appears where the "X" was.
2. In the left column click on Campaigns.
3. Click on and select "New Campaign".
4. Select a specific goal or create the campaign without one.
5. For campaign type, select "Search".
6. Then select if you want website Visits, Phone calls, or both. Enter the details for the options selected.
7. Click on "Next".
8. On the next page name your campaign.
9. For Networks leave Search network ticked and untick the box for Display Network.
10. For your location targeting, you can opt for worldwide by default or narrow down to just your local area. The advanced search will allow you to do radial targeting. For example 30km around your base.
11. Click on the "location options" if you are targeting local area only select:
12. Target: People in your targeted locations.
13. Exclude: People in your excluded location.
14. Unless your site is multilingual skip the language section.
15. Set your daily budget.
To calculate your daily budget for the month, it's your daily budget times the average number of days in a month. Some days you might spend less than your daily budget, and on others, you might spend more to average out across the month. Setting your delivery method to accelerated or standard. Accelerated will deliver your ads more quickly – however you may spend your daily budget early in the day.
In the bidding box for the "What do you want to focus on?" change it to "clicks". If you wish you can also set a maximum cost per click. We recommend that you do.
You now have the basic details needed to create a campaign. You can add extensions (such as Call Outs and Site Links) and once done click on "Save and continue".
You can now start to create your Adgroups. Keep each Adgroup should be a "theme" with the keywords in it related to that one theme. For example, if you are selling pets – one Adgroup could be "cats" and another "dogs".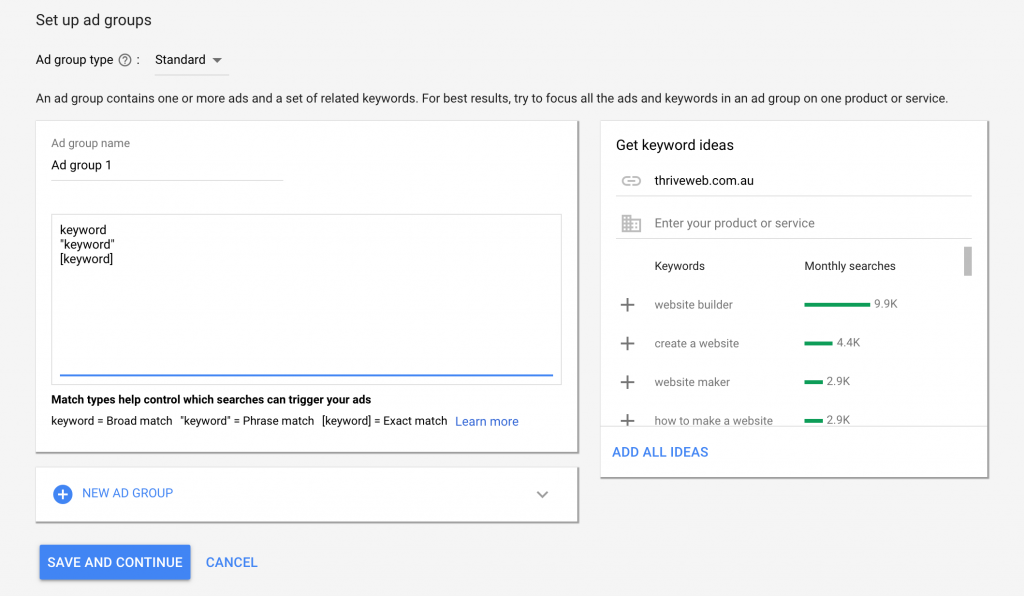 When you have all your Adgroups created – click on "Save and continue" to begin making the ads.
Each Adgroup should have 2-3 ads but for the initial setup just create one ad per Adgroup. You can send users to any page on your site you need.
Don't just send all your visitors to the homepage. We recommend using specific and strategic landing pages. Or at the very least a page more relevant to the ad and keywords. Make use of all the headlines and description fields when possible.
Once all done, click the final "Save and continue" button and your first campaign is now ready to go live!
Review process
There is a review process that will need to take place before your ads can "go live" and be seen by users. This is an automated process and usually only takes a few hours.
If you haven't already you can enter your billing details by clicking on "Tools" In the top right of the window and click on "Billing & Payments". Once a valid form of payment has been set up and your ads are approved, they will "go live".
Continue to monitor and tweak your campaign.
There are many many more options you can do to increase the performance of your campaign such as increasing Quality Score, adding negative keywords, use location targeting, use of display ads, remarketing, etc. Creating a successful and well performing ad campaign is an art in itself.

---
Would you like us to setup your Ads for you?
If you would like a professional Adwords consultant to set up your Google Ads campaign – get in touch with us or call 1300 351 593. Our specialists know how to successfully setup your unique ad account so it performs and you're not wasting money.