Rocket your business to the top with your custom Google Ad strategy
Google Ads are the most powerful growth machine available to your business. We develop a killer strategy and drive highly relevant customers to your high-conversion landing page or website.
Google Ads are the most powerful growth machine available to your business. We develop a killer strategy and drive highly relevant customers to your high-conversion landing page or website.
With Google pay per click (PPC) advertising, you can put your business in front of your potential customers at the very moment they are actively searching for your product or service again and again.
Don't let your competitors grab your customers and sales!
Don't assume it is easy though …
Most Google Ads managers simply don't get it right. We've often heard "Google Ads are expensive" or "they didn't work for us".
To make it work you really need to line up all your ducks – from a carefully crafted offer, well designed ad content, keywords, targeting methods, regional targeting, timing to where your potential customers are landing and interacting with your landing page or website.
We have a holistic marketing approach and ensure conversion and business growth is behind everything we do when executing highly-targeted Google Ad campaigns.
Show up when people search for what you offer
Your potential customers are searching for your products and services right now on Google.
Your ad can appear on Google at the very moment someone is looking for products or services like yours.
Whether they're on desktop or mobile, an ad can turn people into valuable customers.
Only pay for results – like customers visiting your website or phone calls to your business.
Set a budget that works for you
Google Ads can work for your advertising budget. Set a monthly budget cap – and never go over it.
Plus, you can pause or adjust your spend anytime!
Get the results that matter to you

Drive website visits
Explode your leads, sales, bookings, or signups with online ads that direct customers to your landing page or website.
Get more phone calls
Increase customer calls with ads that feature your phone number and a click-to-call button.

Increase store visits
Get more customers in the door with ads that help people find your company.
"I've been working with Jetset Marketing now for four months and my business has doubled! I'm very happy with their service."
– Steve, Stain Fighters
Free Digital Marketing Strategy Tailored To Your Business (Worth $894)
WARNING: You must realise, this is only for those who are serious and dedicated about their business succeeding. The information you will receive in this no-obligation session, is designed so you can walk away and take action immediately.
Firstly, we review your business, find out who you are, what your targets are and spy on your competitors. Then based on the information we receive, our team will develop your custom Digital Marketing Strategy on how you will improve your business out of sight, doubling and tripling your sales.
There is no catch or charge for this comprehensive review of your business. This is not a sales call, we don't sell anything, it is simply a session jam packed with content specific for your business. So be sure to bring a pen and paper with you.
We are giving these sessions away as we are sick and tired of the so called marketing 'gurus' using industry jargon to bluff their way into your pockets. We want you, the business owner, to be as informed as possible when making decisions for the growth of your business.
This no-obligation session is designed to maximise your sales and leads by giving you actionable information you can implement today.
We take this session seriously, so only the business owners ready to take action are to apply.
GET THIS EXCLUSIVE FREE REPORT
5 Traumatic Google Ads Traps Costing You Thousands
(Ex Google Employee Reveals All)
+ 7 Fool-Proof Techniques You Can Use To Kick-Start Your Google Ads Campaign
This report will guide you through the treacherous waters that is PPC (Pay Per Click) and more commonly, Google Ads. We will highlight the top 5 traps that everyone falls into when starting their Google Ads campaign.
This report is yours free – these valuable tips will be sent straight to your inbox to help your website grow with a superabundance of leads and sales.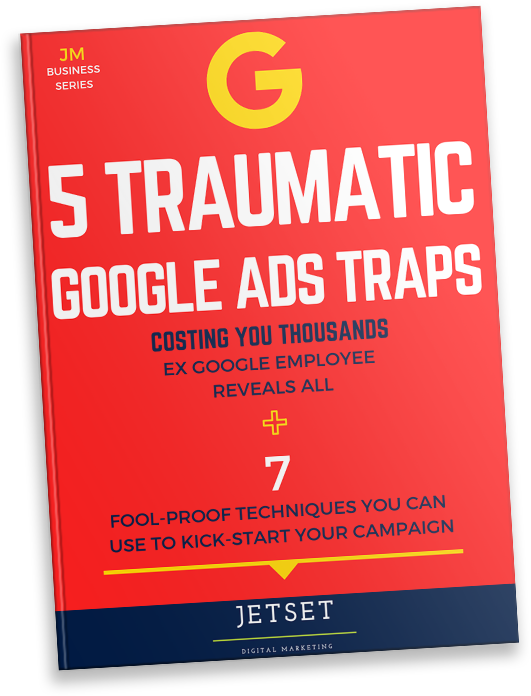 Download the free report here
This free report reveals some of the most powerful agency secrets for boosting your website and flooding your business with customers!
What you will discover in this 32-page free report …
5 traumatic Google Ads traps (Ex Google employee reveals all)

7 Fool-proof techniques you can use to kick-start your Google Ads campaign

3 tips for creating the right Google ad strategy for success

How to set the right budget for your Google Ads Campaign

How to write the perfect Google ad!

What will kill your profits! (Fool-Proof Tip #6)
Maximise your Google Ad spend potential
Google Ads are only a part of the marketing system. You must land your visitors on a landing page that is optimised to convert them into paying customers!
As part of our holistic marketing system – we build landing pages and websites that are designed from the ground up to convert visitors and track efforts through a comprehensive tracking and statistics program.
If you are investing in a Google Ad spend – we highly suggest you look at asking our specialists for options and recommendations.
Customer Care
Get expert advice anytime for anything you need